Jump to recipe
This is the best roast turkey recipe you will ever make! The gravy is next level. This has been my go-to recipe for over 25 years. It is indescribably delicious and to top it off it's fool proof.
You can make this recipe with a whole turkey or turkey breast on the bone.  I have brined them and not brined them – Did not notice a difference. They always come out juicy & tender. I generally prepare the turkey & the pan (without spray) the night before. That way I can get the turkey going without that much hassle on Thanksgiving day. We also enjoy this turkey on other occasions. It's just that good!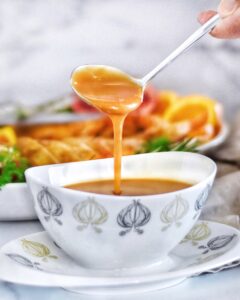 Ingredients
Turkey:
10-12 lb turkey or turkey breast
2 carrots
2 celery stalks
1 onion, sliced in half
2-3 sprigs of rosemary
Handful of parsley
1 1/2 cups chicken broth (I use Better than Bouillon roasted chicken base & mix with water)
1/2 cup tomato juice
1/2 cup brandy
1 cup dry white wine
Lemon pepper
Gravy:
1/4 Corn starch
1/4 cup Heavy cream
1 tsp Kitchen Bouquet
Instructions
Turkey:
Preheat oven to 425°. Wash Turkey inside & out.Pat dry & set aside.
Line an extra large pan with heavy duty foil. Foil should hang over on all sides (enough to completely tent turkey & crimp to seal). Spray with cooking oil & set aside.
Place turkey in prepared pan.
Place vegetables & herbs around the turkey.
Heat chicken broth & tomato juice. Do not boil. Pour over turkey.
Heat wine & brandy. Do not boil. Pour over turkey.
Sprinkle turkey generously with lemon pepper.
Fold & crimp foil, being careful not to touch the turkey.
Place in oven and roast at 425° for 1 hour 30 minutes.
Reduce heat to 400° and remove the foil top. Gently crimp foil into the sides of the roasting pan. Roast for another 1 hour 30 minutes. If the top of the turkey gets too brown, too with a bit of foil, so the sides can continue to brown.
Using a meat thermometer, check the thickest part of the turkey and remove fro the oven when the temperature reaches 185°. Remove turkey from oven & let rest at least 20 minutes before slicing.
Gravy:
To make the gravy, get 1 cup of drippings and mix with heavy cream & cornstarch. Pour an additional 3 cups of drippings in a sauce pan. Over medium heat, whisk in the cornstarch mixture & Kitchen Bouquet. Gently whisk until thickened.